I've heard that some people think there comes a point where we're
too old to make a list for Santa
. To that, I say - no FREAKING way.
OK, if you don't want to ask for toys, or even sit on a stranger's lap to make the request, I
guess
I can see that point. But no Christmas wishes? Next you'll want me to stop wishing on stars, birthday candles and eyelashes.
What kind of world is
that
?!
Besides, I gotta say, other than the shoes (for which the link no longer works, by the way), Santa totally hooked me up on
last year's list
. Did everything show up exactly as I pictured? No. But sometimes Santa,
like God
, gives us what we need, when we need it - not necessarily what we think we want.
Point is - I couldn't be happier this Christmas, and since I got my wishes from last year, I'm going to go ahead and make some wishes again this year. Humor me.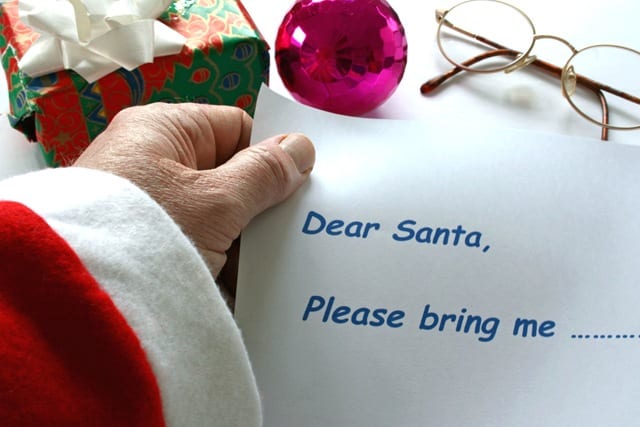 - A new TV. Mine has a 15" screen, which was fine for a second TV, but doesn't make as good a main TV. I'd really like one that has a wifi card built-in; and if it's not too much trouble, a built-in DVD player wouldn't be the worst thing, either.
- The gloves that allow you to use the touchscreen on a smart phone. I got the phone I asked for last year, and I use it all the time. And now my fingers are cold.
- A fun date for New Year's Eve. It doesn't have to be fancy; so long as I'm with the right person.
- Health and happiness for my friends and family. OK - this is straight from last year's list. But some are still going through a rough time, and I still want them to be happy, and healthy. Please and thank you.
- A new client. You
found me
brought me
helped me create a new job for myself. Now I need to turn it into a full time gig.
- Yankee tickets. These are never easy to come by, so I'm putting in my order early.
- Some extra will power on the whole diet and fitness project. Turns out, I may have to wear a swim suit...on a beach...
in front of people
this year.
Help!
That should do it for me, Santa. Oh - and if you could hook up anyone who leaves their list below, that'd be great, too.
I'll leave the milk and cookies in the kitchen as usual. Try not to step on the cats when you're passing through.